The automotive industry faces constant pressure to reduce costs and increase efficiency like other manufacturing segments. Over the last several decades, the limitation of traditional tools to design and inspect automotive parts pose a challenge to its fast-paced growth.
The increasing use of digital technology like 3D scanning in design, production, and inspection has yielded enormous benefits in quality and efficiency.
Advantages of 3D scanning:
·Efficient to record changes of different design versions
·Time-saving for automated inspection of automotive parts
·Flexible enough to assure supplier quality
The following shows us how Scantech's 3D scanners can be applied in product development and inspection of the automotive industry.
Product Development
Design of a new car
It takes a long time for a model to achieve the desired level of perfection as the vehicle design is a combination of creativity and technicality. From the attractive curves to the fine-tuned aerodynamics of a car body, every millimeter matters. The traditional way to repair and test mold is time-consuming, laborious, and hard to guarantee quality.
Scantech's compact and handheld 3D scanner SIMSCAN features a scanning area of 410*400 mm and a scanning accuracy of up to 0.025 mm. The cost-effective scanner can capture the geometries of these models and convert them into point clouds that can be used for creating CAD models for test and archiving. The software ScanViewer that comes with the scanner can enable real-time demonstration of 3D data, data processing, and inspection tasks.
It is a way for designers to validate every pattern, mold, and part during the development of the vehicle. It provides a means of recording every design change with the utmost accuracy. Hence, the design process becomes more efficient and the different model versions can be presented in the living environment.
Automated Inspection of Stamping Parts
With the help of 3D inspection, automakers can get the deviation values between the stamping parts produced and CAD drawings. With our in-house developed automated 3D inspection system AutoScan-T, we can inspect and analyze elements such as surface deviation, hole diameter, hole position, hole-to-hole distance, and boundary of stamping parts, which delivers substantial data for reference. The use of statistics to achieve manufacturing process control can ensure the manufacturers to establish limits and identify causes for part-to-part variability, implement actions to improve process stability and eliminate the need for inspection to control quality.
Supplier Quality Assurance
Supplier Quality Engineers (SQE) travelled back and forth between supplier locations to survey quality systems, approve inspection programs, disposition initial samples and define causes for nonconforming material. Meanwhile, automotive manufacturers often subject the components provided by their suppliers to internal quality controls. This is where our 3D scanners come in.
With KSCAN-Magic, Engineers can first check the geometries for the boss wheel to find if there are some deviations from the original specifications. Their functionality can be further inspected by measuring the component in different statues. With intuitive 3D data captured by 3D scanner and reports generated with a few clicks, engineers can identify issues at an early stage and ensure the components work reliably during the final assembly.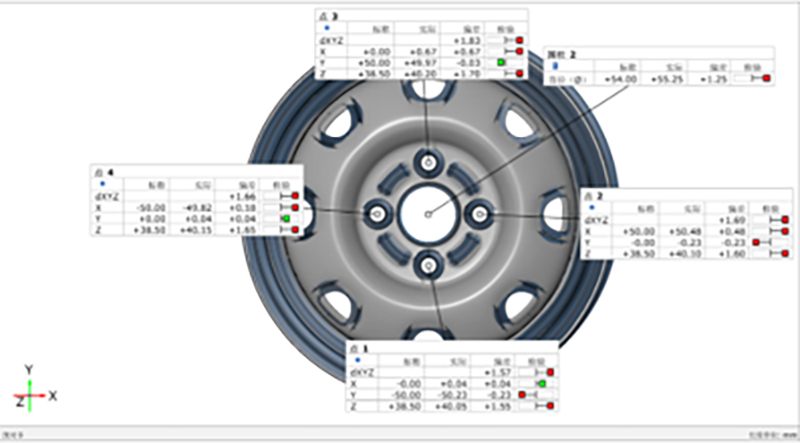 For more information, please visit us.